First of all, I congratulate the Narendra Modi led Government and the armed forces of India for taking the bold and well-planned decision to conduct a surgical operation to attack two terrorist camps in Myanmar to eliminate the militants who were supposed to have killed 18 soldiers in an ambush in Chandel area of Manipur on June 4, 2015. It is reported that 38 Naga insurgents have been killed in Myanmar operation while 7 others have been injured. The actual ground operation lasted only for about 40 minutes. No one has ever doubted the capability and bravery of our armed forces. They are amongst the best in the world. However, what has been lacking till date was the political will power. Our Governments at centre have always lacked the determination and courage to take bold decisions to take on the terrorist threat. This is the reason that we have continuously faced "made in India" or home-gown terrorism as well terrorism exported by our neighbouring countries, in most parts of India, and with almost full impunity. Modi has changed that. This is what is India's first real response to unconventional threats irrespective of where they come from. This was the first declared or undeclared instance of the doctrine of "pre-emption" (though, I would prefer to call it the doctrine of "retaliation", notwithstanding its official description as "pre-emption") by brutal use of force disregarding constraints of national borders to nip threats. This is what US or Israel have been doing for a long time. A strong nation needs to deal strongly with those who threaten it. So far so good. What next?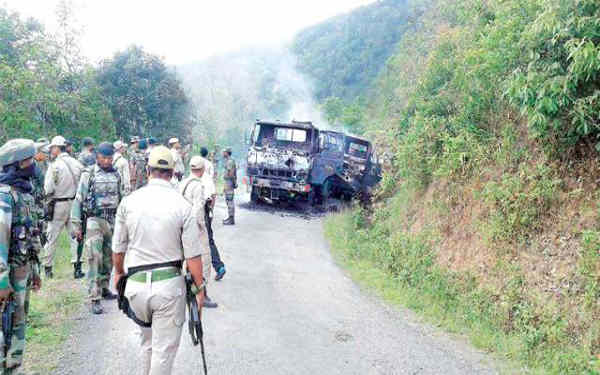 Well, herein lies the challenge. Now that the Modi Government has in fact demonstrated for the first time that #56inchRocks, as Central Minister Rajyavardhan Rathore (who himself is a former army officer and Olympic Silver Medalist in shooting) wrote on Twitter, characterising the surgical strike in Myanmar as "a message to neighbours who harbour terrorists", Modi will be judged by this high standard that he has himself consciously set in the matter of the national security. And, it is not going to be easier, not that it cannot be done. A much more stronger political will power would be needed. Challenge will be both internal and external. Let us see how.
Firstly, Pakistan is not Myanmar. Barring north-eastern states, the terrorism in India, wherever it is in the form of exported from abroad, it is mostly from Pakistan. For last about 30 years now, Pakistan has been sponsoring terror activities in India. Can we use the same surgical strikes against export of terror from Pakistan? Not impossible, but very-very difficult indeed. And, herein lies the real test of our political will power. A nuclear-powered Pakistan, with world's 7th strongest armies (India ranks 3rd in world) with about 617,000 people on active duty in the military, with an additional 420,000 in the paramilitary forces and with 513,000 people in reserve, cannot be taken lightly. The response can be massive and may lead to a full-fledged war. One cannot compare Pakistan and Myanmar. And, in any case, Myanmar is supposed to be a friendly nation.
There is a question of perception. If US conducts Drone strikes in Pakistan without its consent, it may not respond militarily though it may protest. Pakistan cannot match US in military strength, more so in its superior technological fire-power. More than that, while US has resources to wage a war on Pakistan land, Pakistan cannot attack the US mainland. Its missiles or warships cannot reach there. A nuclear response from Pakistan (on nearby US assets) can result in its annihilation from the counter nuclear attack from the US. At the most, it can only act against US intrusion within or around Pakistan using the conventional warfare if at all it decides to retaliate. For example, a Vietnam could face the US threat, but only within its own territory; it could hardly cause any damage on the US mainland. However, the biggest factor is that of perception. US is supposed to be too big for Pakistan. That's why Pakistan can only grumble about the regular US Drone attacks within Pakistan (at least for public consumption) or about the surgical strike in Abbottabad to kill Osama Bin Laden. Remember, Abbottabad is only about 110 km from Islamabad, the capital city of Pakistan. This is half of the distance between Delhi and Agra. Can you imagine what will be our morale if US conducts a full military strike in Agra without our consent? But, Pakistan will not and cannot respond to US militarily, notwithstanding howsoever low its morale may be, or howsoever insulting it feels, after Drone attacks or the Abbottabad strike.
Same is true about the combination of India and Myanmar. This is equivalent to US and Pakistan. So, an Indian strike within Myanmar is not likely to invite a response, even if such strike is without its consent, as was the case with the above strike in Myanmar. This is irrespective of the fact that Myanmar is a friendly country. No one likes an attack within its territory, irrespective of whether or not the attacking country is a friend. But, the relevant question is whether you can given a fitting response if you really want. This is notwithstanding the fact that in the present situation, the Indian attack was directed towards the militants who operate in India and not towards any Myanmar assets.
So, US can carry out a surgical strike in Pakistan. Likewise, India can do so in Myanmar. But, can India conduct such a surgical strike in Pakistan without its consent (which it will never give)? I'll give the same answer. Not impossible, but very-very difficult. Our armed forces have the capability and the will power. But, the question is about the political will power. The consequences can be many. First, our special forces entering Pakistan for a "hot pursuit" may not go unchallenged and the success may be mixed and may even be counter-productive. Surgical air or missile strike on terrorist camps is possible, but it may cause collateral damage and it may also lead to retaliatory attacks by Pakistani forces in India. There is the possibility of retaliation by Pakistan, that can lead to a limited or even a full war also, though I don't consider a nuclear war to be a possibility. I have seen many theories in media that speculate that war between India and Pakistan would not last long due to International pressures. Nonetheless, you must be prepared for the worst when you decide to conduct a similar surgical strike in Pakistan killing, say, 38 Pakistani nationals (even though they may be terrorists for us, they may be considered as heroes by Pakistanis). So, you have to take calculated risk and, of course, your calculations have the full potential of going wrong. Here comes the real test for the new "Modi doctrine" of pre-emptive or retaliatory strike. To reiterate, I am talking mainly about the test of the political will power and not of the military power. This is because I have full faith in the capabilities of our armed forces.
Nonetheless, I agree that the Myanmar operation has sent at least some signal to the terrorists operating from Pakistan. They will have to think twice before conducting a major terrorist attack in India, even if Pakistan is not Myanmar.
At the same time, there is another serious risk lurking here. If it is to be assumed that Modi will show the same "political will power" for Pakistan-based terrorists at least in respect of a major terrorist strike, then it may have some indirect consequences. For example, there are some terrorist groups within Pakistan which are anti-Pakistan. If such groups are sure that India may respond in a similar way as it responded to Myanmar, they may consider it as a means to divert the Pakistani forces away from them. A terrorist attack from Pakistani land; retaliatory surgical attack by India within Pakistani territory; and, a limited or full war between India and Pakistan; this sequence can definitely lead to diversion of Pakistani forces from their operations against those particular terrorist groups. In fact, there may be other interest groups, which may be interested in seeing a war between India and Pakistan. So, there could possibly be a deliberate attempt to make use of the potential of a terrorist attack in provoking a war between India and Pakistan.
Well, let me now turn towards the internal threats. Herein lies the big irony and perhaps the biggest challenge. Can there be a surgical strike against Maoists who operate in the heart of India, in the states, mainly, of Chhattisgarh, Jharkhand, Maharashtra, Orissa and Andhra Pradesh?
Every life is important. Life of any army personnel is important. 18 army personnel were killed in an ambush in Chandel area of Manipur on June 4, 2015. Their lives were very important. The retaliation against the terrorists who killed them, definitely deserves full support and appreciation from all Indians, who have any respect for the nation.
But, what about 76 paramilitary personnel from CRPF (including 2 from state police) killed in Dantewada in Chhattisgarh on 6 April 2010? What about 24 paramilitary personnel killed in Shilda camp attack in West Bengal on 15 February 2010? What about 25 persons (mostly Congress workers and leaders) killed on 25 May 2013 in Chhattisgarh by naxals? What about 16 security personnel (including 1 civilian) killed on 11 March 2014 in the Maoist attack in Sukma district of Chhattisgarh? And, what about, recently, on 11 April 2015, 7 Special Task Force (STF) personnel killed in a Maoist ambush near Kankerlanka, Sukma, Chhatisgarh? This list is endless. Are their lives any less important?
If we can successfully collect intelligence, plan operation, and conduct surgical operation in a different country, within a week of the attack, do we lack these resources to take action within our own country? More so, when it is well-known that most naxal attacks involve as many as 500 Maoists taking part in the attack. Is it difficult to collect intelligence to locate such a large group and organise operations against them? Or, is it the lack of political will power to engage the Maoists with full force?
When you conduct a "surgical operation" within India, you may not have to face the enemy forces but you may have to face the NGO forces funded by Ford Foundation, and the like, who may drag you to courts for the human rights violation. You may be prosecuted for the offence of murder if you kill an Indian, even if he be a terrorist. You don't face a similar situation if you attack a terrorist camp in another country. A surgical operation within India may have collateral damage in the death of civilians and that may be difficult to explain. And, in many cases, even if an extremist is killed, he can be shown to be not an extremist but an innocent civilian. Our "empowered" NGOs are capable of that. Our media and our judiciary can make it really difficult for the security forces conducting such operations against the internal threats.
In fact, who can know it better than our Prime Minister Narendra Modi and his party chief Amit Shah? Almost all encounter cases in Gujarat (during Modi's period as CM) were subjected to judicial scrutiny by the Supreme Court, and Amit Shah had to spend quite some time in jail, while encounters in other states were mostly spared from a similar treatment at that time. One retired judge of Gujarat high court had made a detailed written complaint (whose copy was in public domain) to the then Chief Justice of India about the "communal" attitude of a particular judge of the Supreme Court, and it is widely believed that it was after this complaint that a bench headed by that Supreme Court judge had then ordered a probe in certain encounters in a "small" state, which was believed to show that Gujarat was not the only state the encounters of which were being probed. However, encounters from almost all other states remained untouched at that time. Moreover, after that particular judge retired from the Supreme Court, even the case relating to the probe in encounters in that "small" state also went in cold storage.
It is also a fact that our police forces can be no match to our army in the matter of capability to strike with precision, in the matter of resources and training, and perhaps also in the matter of will power to directly take on the militants. Moreover, they operate in different domains. Police forces are required to use "minimum force" under law, whereas army operates on the principle of "maximum force" and "maximum damage" to the enemy. Myanmar laws will not apply in India to prosecute Indian armed forces' officers for any act, whatsoever.
It is also pertinent to point out that while army has been deployed in Jammu and Kashmir and in the north-eastern states to deal with the militants and terrorists, the Governments at centre have so far resisted the idea of deploying army for dealing with Maoists in the central states of India.
Agreed, thus, that a different policy is needed to deal with the Maoists. Nonetheless, while working within the legal parameters, it is possible to take stringent action to tackle the Maoist problem to completely eradicate this menace. India does not lack resources. Unfortunately, the will power is lacking at the political level. One often remembers the former Prime Minister Dr. Manmohan Singh repeatedly saying that Naxalism is the biggest security threat and yet not showing any political will to remove that threat. One only hopes that Narendra Modi will show a similar paradigm shift in the policy for dealing with Maoist problem as he has done in the recent Myanmar operation. Just look how it can change the perception. On June 4 when the army convoy was attacked, the army morale was very low. And, within a week, an unfortunate situation (for which one really feels sad) has been converted into a victory and the army morale must have got boosted several times than earlier. But, the billion dollar question is – will Modi do it, since it is not a question of "can he do it"? So, will he "destroy" the terrorist camps in India?
Facebook Comments
SHARE & LIKE
Tweet