Eminent senior lawyer Ram Jethmalani has offered to defend Sonia Gandhi and Rahul Gandhi in the National Herald case (see here). He sent a suo motto letter dated 10 December 2015 to Sonia Gandhi in this regard. However, such a suo motto offer made by a lawyer to defend someone in a case is a professional misconduct since it is prohibited under the Rules framed by the Bar Council of India.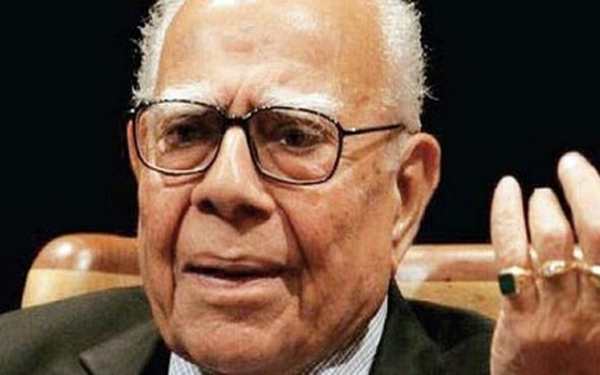 Here is what Jethmalani wrote to Sonia Gandhi in his letter:
"I know you have many great lawyers in the party and you don't need my professional assistance. But, my services are available to you if you wish to avail of them. Make no mistake; I neither need any fees nor any other favour from you. My services will be service to the nation. … … Wish best wishes and hoping to hear from you"
Read the full letter of Ram Jethmalani, as published by Legally India.
Now read what Rule 36 in Chapter II in Part VI of the Bar Council of India Rules says (see here):
"36. An advocate shall not solicit work or advertise, either directly or indirectly, whether by circulars, advertisements, touts, personal communications, interviews not warranted by personal relations, furnishing or inspiring newspaper comments or producing his photographs to be published in connection with cases in which he has been engaged or concerned. …". [Emphasis supplied]
It is pertinent to point out that these Rules have been framed by the Bar Council of India under the provisions of the Advocates Act, 1961, and have statutory force.
Thus, it is clear that there is a prohibition on an advocate soliciting work, either directly or indirectly.
When Ram Jethmalani wrote the aforesaid unsolicited letter, suo motto, to Sonia Gandhi offering to defend her and her son Rahul Gandhi in the National Herald case, it was nothing but a sort of "solicitation" of work. It is immaterial as to whether or not any professional fee is sought for such solicited work, since the bar is on the solicitation of work itself. This is irrespective of whether or not it is for any professional fee or for any other consideration such as, e.g., free publicity and media glare, which come bundled with high-profile cases, or for the consideration of settling scores with any opponent (as it is reported in media, Jethmalani is not in good terms with Dr. Subramanian Swamy, and of late, he has turned against Prime Minister Narendra Modi also; thus, helping Sonia and Rahul can perhaps be a way to settling scores with Swamy and Modi) or the like. No doubt, Jethmalani may perhaps claim that he does not any need any further publicity. But, perhaps, the hunger to seek publicity is always insatiated, and a person already in news always wants to remain in news. The more you get publicity, the more you want to get further publicity.
Jethmalani may perhaps also claim that he does not need to solicit work and that he already has plenty of work already. However, this does not change the character of what he wrote to Sonia Gandhi. In any case, in spite of having sufficient work, one may like to "select" a specific type of work for whatever reason or consideration.
In fact, Ram Jethmalani is a designated senior advocate. And, there are further restrictions under the above Rules on senior advocates in having direct dealings with clients. Senior advocates are expected, under the rules, to deal with the clients through another advocate (who is not a senior advocate).
It is, of course, true that nobody will have guts to touch Ram Jethmalani, a legendary lawyer who is well-known and well-respected for his legal acumen. After all, rules are meant only for the lesser mortals. Certain persons are always above rules and laws, notwithstanding the tall claims of "right to equality" in our Constitution. There are always some persons who are "more equal" than others. They are generally beyond the reach of rules, laws and perhaps even the Constitution. Violations of some rules here and there, are no more than play-things for them. And, Ram Jethmalani would certainly belong to this illustrious elite club of "more equal than others".
Facebook Comments
SHARE & LIKE
Tweet