The University of Petroleum and Energy Studies, Dehradun, is organising the 4th National Client Counselling Competition which is to be held between the 20th and 22nd November, 2015. The venue of the competition is the College of Legal Studies, University of Petroleum and Energy Studies, Dehradun (Uttarakhand).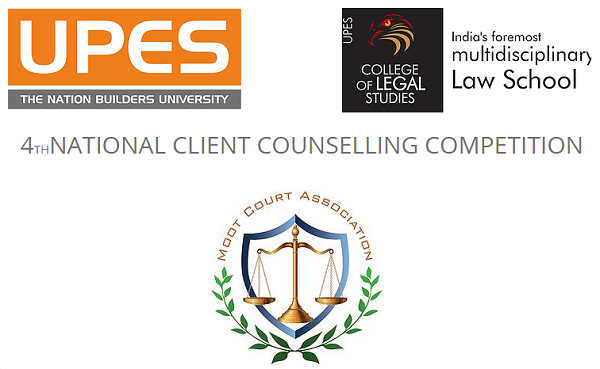 Registration to the National Client Counselling Competition is to be done by attaching a scanned copy of the filled registration form and mailing it to upes.clientcounselling@gmail.com.
The registration fee of Rs. 3000 per team via NEFT must be made before 10th October 2015 after which the participants will receive a confirmation mail of the registration.
The hard copy of the registration form needs to be submitted at the time of the registration.
Rules and Regulations:
Team Composition : 2 Students
24 teams will be selected on first come first serve basis.
1 Team per College.
Prizes:
Winner – Worth Rs. 25,000/-
Runner-up – Worth Rs. 15,000/-
Accommodation would be provided for the teams which are not from Dehradun. Female participants would compulsorily have to take accommodation.
The Website of the competition can be accessed by clicking here.
For additional details contact:
Trupti Semwal, Student Convenor (+91 9997 686 371)
Shreyas Jain, Student Co-Convenor (+91 7054 407 778)
Facebook Comments
SHARE & LIKE
Tweet