Delhi University law faculty is one of the most reputed and of the oldest law colleges in India. It started day classes in 1924. Evening classes were started in 1942. In 1966, the two-year LL.B. course was converted into a three year course with six semesters. However, DU law factulty still does not have a 5-year law course, which is a popular law course nowadays. Initially, the law classes were located in Vice Regal Lodge, where Shahid Bhagat Singh was held captive. In 1963, the law classes were relocated to the present campus at Chhatra Marg in the North campus of the Delhi University. Now, after 90 years of its existence and after about 51 years of its being in the present location, the Delhi University law faculty is likely to be shifted to a new building.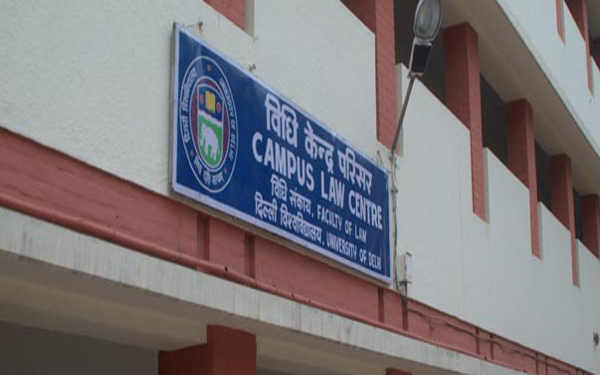 The three law centres, namely Campus Law Centre, Law Centre-I and Law Centre-II, will now be operating from a common building from the next session (2015-16), which is located adjacent to the Central Reference Library in North Campus. This is what has been communicated by the Delhi University to the dean of the law faculty.
However, reports suggest that students are not happy with this shifting of location due to insufficient infrastructure being available to cater to the needs of about 6400 students (2,200 students in Campus Law Centre, 2,400 in Law Centre-I and 2,000 in Law Centre-II). It is stated that there is space only to accommodate about 1300 students and that there are only about 22 class rooms in the new structure.
It is pertinent to mention that the DU law faculty was in news in September 2014, when the Bar Council of India had decided to derecognise Delhi University law course after the University could not seek timely extension of the affiliation of its three law centres. The present shifting of the building appears to be in the wake of the criticism by the Bar Council of India about the law faculty having poor infrastructure.
It is also noteworthy that law faculty of DU has produced many legal luminaries, including the present Supreme Court judges, namely, Justice Vikramjit Sen, Justice A.K. Sikri, Justice Rohinton Nariman, present Finance Minister Arun Jaitley, former Law Minister Kapil Sibal, about 30 sitting Judges of Delhi High Court, and former Solicitor General of India Mohan Parasaran.
It is learnt that at present 3 petitions are pending before the Delhi High Court regarding the state of the infrastructure of  the DU law faculty.
Facebook Comments
SHARE & LIKE
Tweet