This topic contains 1 reply, has 2 voices, and was last updated by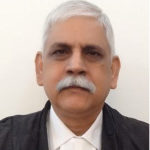 Dr. Ashok Dhamija 3 months ago.
You may also like to read these topics:
GST related doubts about consumables used in treatment in hospitals
Is trade with annual turnover of Rs 55 lakh eligible for GST composition scheme?
Is it mandatory to register under GST if turnover less than Rs. Twenty Lakh?
Is GST applicable to Fees & Medicine given by a Homeopathy doctor
Facebook Comments
[Note: For a free legal question with your Facebook login, click here.]