About 20 years back, when I was posted in Mumbai City Police, a colleague IPS officer posted there was one year junior to me, and was about 37 years of age. He was a tall person of about 6 feet height and was well-built. He was a very lively and active person. He was considered as one of the best IPS officers in Maharashtra cadre. Unfortunately, at the age of 37 years, he had a massive heart attack and died on the spot. He was never diagnosed to be having any symptoms of a heart disease. A prominent chowk in South Mumbai (in Colaba – Cuffe Parade area) was named after him.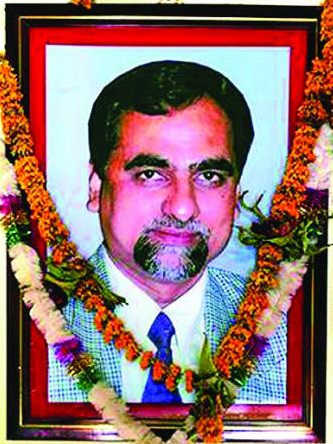 About 2 year prior to the above incident, when I was working in CBI in Mumbai and was residing in Hyderabad Estate on Nepean Sea Road, an officer in one of our buildings suddenly died of an unfortunate heart attack. He was only about 48 years old at that time.
The point is – our lives are so tense nowadays, nobody knows what would happen when. Our life styles have changed. Our food habits have changed. Nature of work has changed. In many Government departments, you are always doing the fire-fighting job, managing to run the show somehow in adverse circumstances. In a city like Mumbai, life is very hectic.
I have seen the tempo of life in South Mumbai. I have lived there for about 17 years. The City Civil Court complex of Mumbai, where Judge Loya was posted as a Special Judge, was in my area when I earlier worked as DCP South Mumbai. Subsequently, as a lawyer, I have practiced in that court for some time. I can tell you from my personal experiences, life is a high-voltage drama over there. And, Judge Loya was handling a very high-profile case, amongst other cases. You don't know where your health suddenly takes a beating.
Just have a look at the following extract from an article written by a senior cardiologist:
"According to the Indian Heart Association, "50% of all heart attacks in Indians occur under 50 years of age and 25% of all heart attacks in Indians occur under 40 years of age. Population living in cities are three times more prone to heart attacks than people living in villages"."
So, 50% of all heart attacks in Indians occur under 50 years of age! Population living in cities are 3 times more prone to heart attacks than their rural counterparts!!
And, mind you, South Mumbai, as I described above, can be said to be the worst even among the cities. Always hectic life, a machine-like life. Judge Loya worked and lived in South Mumbai, and was handling a very high profile case.
No doubt, the untimely death of Judge Loya was very unfortunate. It was a shock for his family and the nation. Nobody can compensate the loss caused due to his most unfortunate and untimely death. However, to say that his death was a pre-meditated murder, and that too 3 years after his death, is something that can only appeal to those having some political or other agenda who can smell a conspiracy in anything and everything due to their vested interests.
One of the most well-known lawyers in India had described the American lawyers as being like vultures when they descended in large numbers in India, searching for clients, after more than 2000 peopled died in Bhopal Gas tragedy (as Union Carbide, responsible for that tragedy, was a US company and compensations in US could be in millions or rather billions of dollars, and lawyers in US can take fee in percentage of amount won). Read this online extract from a book:
"In the aftermath of the tragic release of poison gas at the Union Carbide plant in Bhopal, India, "American lawyers rushed to India in an attempt to retain clients and in their zeal brought shame and discredit to the American Bar."
Also see, the Washington Post, August 16, 1985 (Lawyers Compound Disaster Grief).
If you read the judgement of the Supreme Court in petitions seeking probe in the case of most unfortunate death of Judge Loya, you will notice that the Supreme Court has expressed somewhat similar sentiments (read judgment). The Supreme Court has strongly criticised the conduct of the lawyers representing petitioners and intervenors demanding probe in the Judge Loya case. These lawyers include Dushyant Dave, Indira Jaising and Prashant Bhushan. In fact, the Supreme Court said that the conduct of the petitioners and the intervenors scandalises the process of the court and prima facie constitutes criminal contempt. However, on a dispassionate view of the matter, in its magnanimity, the Supreme Court chose not to initiate proceedings by way of criminal contempt against them.
The Supreme Court has criticised the misuse and abuse of the public interest litigation (PIL). With regard to PILs, it observed:
"Yet over time, it has been realised that this jurisdiction is capable of being and has been brazenly mis-utilised by persons with a personal agenda. At one end of that spectrum are those cases where public interest petitions are motivated by a desire to seek publicity. At the other end of the spectrum are petitions which have been instituted at the behest of business or political rivals to settle scores behind the facade of a public interest litigation. The true face of the litigant behind the façade is seldom unravelled. …"
"The present case is indeed a case in point. Repeatedly, counsel for the petitioners and intervenors have attempted to inform the court that they have no personal agenda and that they have instituted these proceedings to protect judicial independence. An aura of good faith has been sought to be created by submitting that the true purpose of seeking an inquiry into the circumstances relating to the death of Judge Loya is to protect the district judiciary. But as the submissions have evolved, it has become clear that the petition is a veiled attempt to launch a frontal attack on the independence of the judiciary and to dilute the credibility of judicial institutions. Judicial review is a potent weapon to preserve the rule of law. However, here we have been confronted with a spate of scurrilous allegations. Absent any tittle of proof that they are conspirators in a murder the court must stand by the statements of the judicial officers. The judges of the district judiciary are vulnerable to wanton attacks on their independence. This court would be failing in its duty if it were not to stand by them."
It is quite clear from the observations of the Supreme Court that the petitioners and the intervenors did not approach the court (demanding a probe in Judge Loya's unfortunate death) with good intentions. They had some type of political or personal agenda. In fact, the Supreme Court has gone to the extent of saying that public interest litigation (PIL) has become an industry of vested interests in litigation.
I have read the full judgment of the Supreme Court. It is an excellent judgment. The judgement is written by Justice Dhananjay Chandrachud, who is one of the best judges in the Supreme Court. I can personally vouch for that. Some 25 years back, he was my teacher in LL.M. in Mumbai University Law Department. Before he became a judge in Bombay High Court and while he was a senior advocate, I had the privilege to meet him on many occasions. At that time, I was in service. However, after he became a judge, I have NEVER met him personally and have NEVER tried to meet him, even on any formal occasion. Of course, I have appeared in courts before him, but I don't think he can recognize me now. That he is one of the best judges is an opinion that is shared by most lawyers in Supreme Court. Irrespective of what some people with vested interests may say, I find his judgment in Judge Loya case as one of his best ones. To withstand high-Decibel pressure of media and politicians, to take head-on the risk of being labelled with political colours, are rare virtues nowadays.
The Supreme Court has clearly held that the unfortunate death of Judge Loya was a natural death, without any doubt. And, I am in full agreement with this view.
[Note: This article was first published in the form of an answer at Quora.]
Facebook Comments
[Note: For a free legal question with your Facebook login, click here.]
SHARE & LIKE
Tweet