Recently, Delhi Government led by Arvind Kejriwal has taken a decision to allow running of odd and even numbered private vehicles in Delhi on alternate days. This means that 50% of the private vehicles will not be running on any given day. This decision is likely to be implemented on experimental basis for 15 days starting 1 January, 2016. However, it may not be easy to implement this decision due to various problems, howsoever noble the intention behind this decision may be.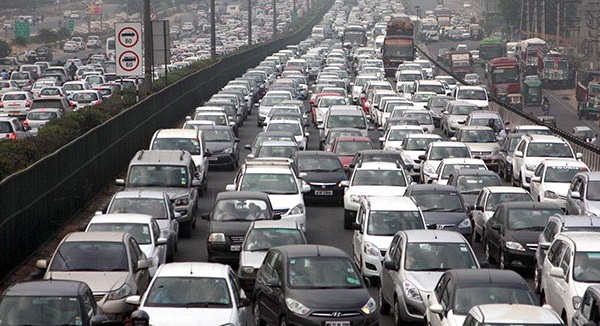 As per Delhi Traffic Police website, there are about 96 lakh vehicles in Delhi, out of which about 90 lakh would perhaps be private vehicles on which the new "odd and even" rule will apply. This means that on any given day, about 45 lakh vehicles will not be allowed to run. The sanctioned strength of Delhi Traffic Police is about 5936 or so. About 30% of this staff is deployed for VIP duties, which implies that only about 4000 personnel would be available for regular traffic duties. This available strength is further divided into day and night duties and about 10% to 15% also remain on leave at any given point of time. A substantial number of personnel are also required to be deployed for managing traffic at intersections and for other traffic duties.
However, even if all of the above 4000 personnel of Delhi Traffic Police perform 24 hours' duty for 365 days in a year without taking leave, and perform only one task of checking "odd and even numbered vehicles" without doing any other duty, and if the private vehicles decide to defy this rule, each traffic personnel will have to challan 1125 vehicles every day!!! A mammoth task indeed, keeping in view the fact that on an average, a traffic personnel challans only 2-3 vehicles per day for various types of traffic violations.
No doubt, it is true that all the defaulting vehicles need not be acted against. A strong action against a reasonable percentage of vehicles will act as a strong deterrent for other vehicles. Yet, it has to be kept in mind that there are several other duties to be performed by traffic personnel and checking the odd and even numbered vehicles is not the only task expected of them.
In this regard, it may be pointed out that about three years back, the Supreme Court had passed an order banning all types of tinted films on car windows [see: Supreme Court decision on tinted glass car films clarified]. At the time of passing of the said order, action was taken against the vehicles having tinted glasses. But, the said order was not implemented fully. At one stage, the Supreme Court had even threatened initiating contempt action against senior officers for failing to act against vehicles with tinted glasses. However, over a period of time, the things have come back to square one again. Now, one can easily find a very large number of vehicles with tinted glasses moving freely on roads, and in fact even within the Supreme Court premises also. Nobody appears to be bothered about implementation of the aforesaid Supreme Court order banning tinted glasses in vehicles. Even the threat of contempt action by Supreme Court has not been effective.
What then will happen to the Delhi Government scheme of restricting odd and even numbered private vehicles on alternate days? It is also not known whether Delhi traffic police will fully co-operate with the Delhi Government in implementing this new scheme, given that traffic police comes under the control of the Central Government and the relations between the two Governments are anything but cordial.
It is also noteworthy that the presence of traffic police can be noticed only on the major roads and intersections. All the interior roads would thus be freely accessible to all vehicles, irrespective of whether they are odd or even numbered. There would be nobody to implement the odd and even scheme on such interior roads.
Will it be possible for the traffic police and/or other authorities to check the registration certificates of the vehicles to verify the number plates displayed by them? Is it not possible to maintain two number plates – one odd-numbered and the other even-numbered? To put things in the correct perspective, let me point out that in last about 30 years since I have been driving a vehicle, not even once has the registration certificate of my vehicle been checked by traffic police. Many others would have experienced the same. It is also the general experience that traffic police staff is more content in checking motorcycles and transport vehicles than checking the cars (especially the bigger ones).
Last year, a decision was taken by Delhi Government that petrol/diesel will not be sold at the petrol pumps in Delhi to vehicles which do not have "Pollutions under Control" certificates. What happened to that decision? Could it be implemented? Do all vehicles have PUC certificates? Does anybody check them now?
In fact, if at all, the proposed scheme of odd and even numbered vehicles being permitted on alternate days is implemented successfully, there is a fear that it may actually lead to a larger number of vehicles being registered in Delhi. A substantial number of people owning cars may have sufficient financial strength to buy another car, if needed. So, there are people who may watch the implementation of the scheme for some days, and if it is effective, many of them may buy another car.
It is also noteworthy that studies have shown that pollution caused by cars is much less as compared to that caused by other reasons [see here]. So, it is doubtful as to how much pollution would actually be reduced effectively by ordering half of the cars off the roads each day. Efforts need to be made to reduce other major sources of pollution.
The practical difficulties and the inconvenience caused to people (especially those in emergency) by the proposed scheme have already been highlighted in mainstream media as well as in social media. For example, if you go out with an odd numbered vehicle and want to return the next day, it would not be permissible and you may have to wait for another day to return. Vehicles registered outside Delhi may not be able to enter the city on half of the days. In the case of a medical emergency, despite having a vehicle ready, you may not be able to carry the patient to the hospital.
Public transport in Delhi is already crumbling under pressure. Delhi Metro and public transport buses already carry passengers beyond their capacity. The government has done nothing to prepare the city well in advance by augmenting public transport before announcing such drastic decision. Having dedicated bicycle lanes may also have been useful for some people who would have opted for bicycles. Whatever bicycle lanes exist in Delhi, have been encroached by hawkers and parking of cars. It is too risky to use bicycles on existing Delhi roads.
Whenever a new scheme is announced, there are always some people who would test the capacity of the authorities to implement it. So, you can expect violations of the scheme on day one itself. Subsequent implementation of the scheme would depend entirely on the capacity of the authorities to take deterrent action against those violating the scheme. As mentioned above, the numbers do not support the possibility of an effective implementation of this scheme. A good law is of no meaning if it cannot be implemented effectively. And, to implement the law effectively, you need sufficient manpower to take deterrent action against defaulters. As seen above, Delhi does not have sufficient manpower to implement the odd and even numbered scheme. Ultimately, without effective implementation and without alternatives of public transport and environment-friendly transport (such as bicycles and e-vehicles), the scheme will only become a joke.
Theft is banned as an offence. Have we been able to stop thefts? States like Gujarat have prohibition laws. But, have they been able to implement such prohibition laws? Smoking at public places is banned, and the Supreme Court also passed an order to that effect. But, is it effectively implemented? One can easily notice people smoking even within the premises of the Supreme Court itself! Gambling is banned under law. However, haven't we seen thousands of crores of rupees being regularly put on gambling on cricket and elections?
So, ultimately, what we are going to witness for a fortnight beginning 1 January, 2016, is only a drama for a few days, and thereafter everything is expected to be as usual. Confusion and chaos will prevail for a few days on Delhi roads. Thereafter, everything will be the same. Lack of preparedness and planning to implement a decision is bound to make mockery of the administration once again. Instead of reducing pollution on Delhi roads, we will again be proving that our administration is ineffective in implementing its own policies. A noble objective, but a misdirected solution and that too without proper preparation and planning, inconveniencing 45 lakh people every day (about 25% population). This is all we can say about the proposed odd and even numbered vehicle scheme in Delhi.
Facebook Comments
SHARE & LIKE
Tweet