At a time when Afzal Guru was yet to be executed, I had half-written an article in which I had criticized the Supreme Court judgment in which his conviction had been upheld. Of course, that was from a legal point of view and not from a political viewpoint. However, I could not complete that article due to lack of time and other pressing matters. So that (half) article remained unpublished. SC judgment in that case may perhaps have been wrong from legal point of view. This is what I also believed. But, then, so are many-many other judgments. Judges are human beings, after all. There is no mathematical scale invented so far, which can precisely and exactly judge the guilt or innocence of accused persons. Then, the judges also have emotions and get influenced by many right and wrong things that so routinely influence the lesser mortals like us. We may have reasons to criticize judgments of the courts. And, in fact, I do believe that we must have the courage to criticize (in a decent and constructive manner) the court judgments wherever we find errors in them, notwithstanding the threat of contempt of court. Nothing can be perfected without criticism, albeit constructive criticism. So, criticize we must – all that is wrong. But, that does not mean that we should cross all boundaries while criticizing our institutions.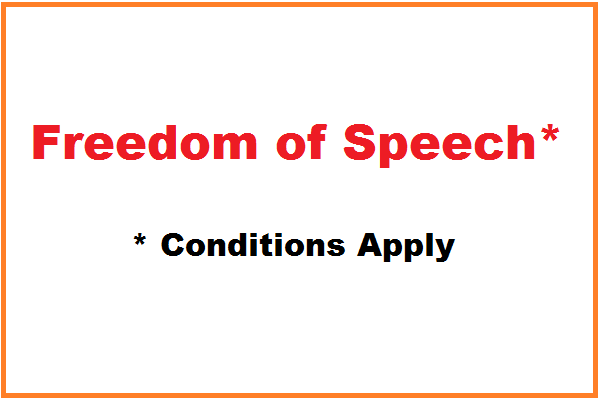 We have freedom of speech and expression. Our Constitution provides it as a fundamental right in Article 19. But, the same Article in the Constitution also places reasonable restrictions on the exercise of this fundamental right in the interests of the sovereignty and integrity of India, the security of the State, friendly relations with foreign States, public order, decency or morality or in relation to contempt of court, defamation or incitement to an offence. No right can be absolute. Exercise of a right by a person also comes with a duty or responsibility to respect similar right(s) of other persons.
In fact, similar to these restrictions in India, the guarantee of right to hold opinions and the right to freedom of expression under the International Covenant on Civil and Political Rights, 1966, also come with restrictions wherein it is specifically provided that the exercise of these rights carries with it special duties and responsibilities and it may be subject to certain restrictions for respect of the rights or reputations of others, and for the protection of national security or of public order, or of public health or morals.
Even in United States, where freedom of speech is protected under the First Amendment to the US Constitution, and where it is generally believed that this right is absolute (at least, much broader that what we have in India), the Supreme Court in US has recognized various different kinds of laws that restrict speech and subjects each type of law to a specific though different level of scrutiny.
So, does the right to freedom of speech allow one to be a part of a mob and start chanting and inciting "we shall continue to fight till the destruction of India"? Notwithstanding whether or not there was sufficient evidence to convict Afzal Guru, the fact remains that he is identified with the dastardly attack on Parliament of India, so when one starts inciting others by saying that Afzal Guru should be born in every house in India, in the above context, it is tantamount to saying that there should be more persons planning to attack the Parliament (more so, when seen also in the context of other slogans – "continue to fight till the destruction of India"). So, does freedom of speech allow it? Does it allow saying "Afzal Guru, we shall fulfil your intentions"? What intentions? Of attacking the Parliament? Or, does this freedom allow saying "India should be cut into 100 pieces"?
The recent incidents in JNU (Jawaharlal Nehru University, New Delhi) need to be seen in this context.
Freedom of speech should not become the freedom to abuse or the freedom to harm your own nation.
Mind you, it is not a colonial rule that one is fighting against. We live in India that has a democratically elected Government and has a written Constitution and rule of law, even if there be many defects in the system. You can change the Government by peaceful means, but not otherwise. Abuse the party in power if you so wish, but not the nation itself. And, the moment you start abusing your nation and start threatening its integrity, the freedom of speech must end there itself. Notwithstanding whether or not it amounts to the offence of "sedition" as defined in Section 124-A of the IPC or as interpreted by courts. For, Article 19 of the Constitution is very clear – freedom of speech can be curtailed in the interests of sovereignty and integrity of India (and, in fact, for more much lesser things such as in the interests of decency or morality or in relation to contempt of court, defamation or incitement to an offence).
Unfortunately, there are parties in India that always fantasize revolution to bring about a change of system wherein what Lenin said "all truth is partisan" should prevail and wherein the "truth" imposed by such parties should only prevail. And, they want to use the right to "freedom of speech" so that their own "truth" can be imposed forcibly on others by having a regime wherein thousands could be crushed under military tanks, a la Tiananmen Square Massacre. And, they want to preach to us – "freedom of speech"? Huh!
Facebook Comments
SHARE & LIKE
Tweet