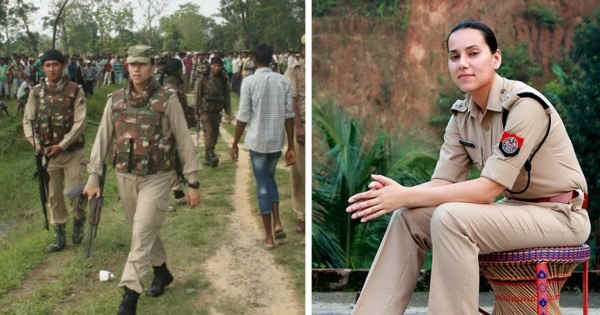 Sanjukta Parashar is no ordinary woman. Even deadly Bodo militants who can scare the bravest person are scared of her. Sanjukta is an Indian Police Service (IPS) officer of Assam-Meghalaya cadre. Working as Superintendent of Police (SP) in one of the biggest districts of Assam, Sonitpur, she has instilled fear among the Bodo militants in her 18 months' tenure. While this Kalashnikov-wielding tough and brave cop invokes fear among the militants, she is an inspiration for a generation of women in India in general and Assam in particular. Meet Sanjukta Parashar, a rare daring IPS officer who is destined to be one of the most famous women police officers after Kiran Bedi, the legendary first woman IPS officer in India.
Born a day after Gandhi Jayanti in 1979, Sanjukta Parashar is willing to shun "ahimsa" for the sake of her duty, and does not hesitate to use firearms if it is required for the lawful performance of her official duties. In past few months alone, she has led, from the front, the battle against militancy resulting into gunning down of 16 outlawed militants. In addition, 64 dreaded militants have been arrested in last few months alone. This is no ordinary feat. After the crackdown, in December 2014, the militants struck back by targeting civilians and killing 62 hapless  people in Sonitpur and Kokrajhar. What else they could do, other than doing the mean act of taking revenge against the innocent people! India Today quotes Sanjukta as saying that this was "an act of desperation by the NDFB(S) [National Democratic Front of Bodoland – Songbijit] cadre after the crackdown in all districts affected by NDFB insurgency".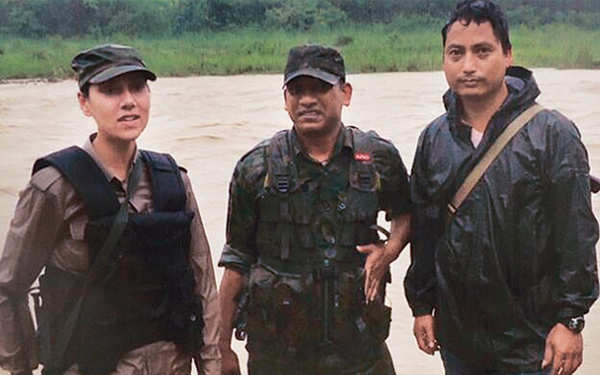 Sanjukta joined IPS on 29 August 2006 as a 2006 batch IPS officer. She was born in Assam itself. She is the first lady IPS officer from Assam who got Assam-Meghalaya cadre. Her mother (Meena Devi) has worked with the Assam Health Services and father (Dulal Chandra Barua) has worked as an engineer in the Irrigation Department. She completed her Class X from Holy Child School, Guwahati and finished her Class XII from Army School, Narangi.
Sanjukta is not merely a tough and fearless cop. She is also a scholar. Look at her educational qualifications. She did graduation in Political Science Honours from Delhi. Then, she completed her Master's programme in International Relations in the School of International Studies, Jawaharlal Nehru University (JNU). She did not stop there. She did her M.Phil. again from JNU. Thereafter, she completed even her Ph.D. from Jawaharlal Nehru University, Delhi. That's why her name is shown as Dr. (Mrs.) Sanjukta Parasar, IPS, on the Assam Police website.
Prior to joining the Indian Police Service (IPS), she also worked for some time with the Observer Research Foundation.
In fact, since her childhood, Sanjukta took keen interest in sports and other extra-curricular activities. She was good in swimming, regularly used to take part in the sports competitions in the school, used to participate in the one-act plays and march pasts.
Sanjukta Parashar had secured a high 85th All-India rank in the Civil Services Examination conducted by UPSC for selecting candidates for IAS, IFS (Indian Foreign Service), IPS and other central services. She could have got IAS, which is generally the first choice of most candidates, specially for women candidates. But, Sanjukta opted for IPS.
Reason? In her own words, as told to the Assam daily The Sentinel: "The IPS is a service that can provide instant help and aid to victims at times of distress. As such there is no parallel. And I am proud to have chosen this field."
No easy choices here. This tells you about the tough character of this woman IPS officer. She takes pride in her uniform. And, true to her words, she has been rendering great help to people in distress and has been active in social service.
While Indian Army is still not willing to offer combat job to its women officers (they are mostly in supporting roles in army), here is Sanjukta Parashar, who is regularly leading, from the front, patrol teams consisting of Assam Police commandos and members of the CoBRA battalion of the Central Reserve Police Force (CRPF) in the militancy-affected areas. And, she herself carries AK-47 assault rifle and remains in the forefront of the ground battle against insurgents in Assam.
In fact, within hours of her joining as Assistant Commandant of Makum in 2008, after completing her training, she had to move to Udalguri where clashes between the Bodo and illegal migrants from Bangladeshis had broken out. There itself, she learnt her first practical lesson of fighting the militants and communal violence.
Her name is mentioned as "Sanjukta Parasor" in the IPS Civil List hosted on the Ministry of Home Affairs (MHA) website; and Assam Police website shows her name as "Parasar". Her own Facebook account declares her name as "Sanjukta Parashar" and has about 42800 "likes", including many "likes" from other senior IPS officers.
Sanjukta is married to an IAS officer of 2006 batch, Shri Puru Gupta, who is also posted in Assam cadre, though he originally belongs to Delhi. At present, he is posted as Deputy Commissioner in Tinsukia district of Assam, about 350 km away from Sonitpur where Sanjukta is posted. Naturally, they can meet only after weeks or months. They have a 4 to 5 years old son. Sanjukta's mother helps her take care of her son.
Sonitpur (district headquarters at Tezpur), where Sanjukta is posted as SP since 21st January 2014, is the second largest district of Assam in terms of area (with an area of 5324 sq. km on the northern banks of Brahmaputra), and the third most populous district of Assam (with population of 19,24,110 as per 2011 Census). The demography of Sonitpur district is not entirely homogenous as several linguistic, religious and ethnic communities and groups live in Sonitpur district (73% Hindus and 17% Muslims, while remaining being other communities). Assamese, Nepalis, Tea tribes (adivasis), Bengali Hindus and Bengali Muslims, are the main communities living here. The main tribes in Sonitpur are: Mishings, Bodos, Rabhas, Koch Rajbongshis, Mechs, Nyishis, Garos, Adis, Apatanis, Lamas etc.
Bodo militancy is one of the main problems in Sonitpur district, which is otherwise famous for natural beauty and wildlife hotspots with number of wildlife sanctuaries, national parks situated in and around Sonitpur.
In a country like India, where gender discrimination is writ large, Sanjukta Parashar is an inspiration not only for women but also for men. Selecting police as a profession in a state that has serious problems of insurgency and communal violence, and then making it a grand success is not something that can be achieved unless you have strong determination, no fear of sacrificing your life, willingness to work hard for long hours, do outdoor field duties at nights. And, above all, putting fear of death in the minds of those dreaded militants whose chosen path is nothing but destruction and death!
Yes, Sanjukta Parashar is one such rare IPS officer. Militants are scared of her. But, she herself is a humble person and says that only criminals should be afraid of her and not ordinary people whom she wants to serve.
Like this story? Please share it with your friends on Facebook and Twitter and other social media (links given in the beginning of the story), so that others can also get inspiration.
[Image Credits: Images shown in this article have been taken mostly from the public profile of Sanjukta Parashar on Facebook and one photo each has been taken from indiatimes.com and indiatoday.intoday.in]
Facebook Comments
[Note: For a free legal question with your Facebook login, click here.]
SHARE & LIKE
Tweet