This topic contains 1 reply, has 2 voices, and was last updated by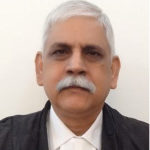 Dr. Ashok Dhamija 1 year, 10 months ago.
You may also like to read these topics:
Suspension for 3 years without chargesheet and without extension of suspension
SUBSISTENCE ALLOWANCE NOT PAID - can departmental enquiry proceed?
How can suspended person get 75% subsistence allowance 2 years after suspension?
Revoking suspension order after bail in criminal offence ; UP Govt employee
Facebook Comments
[Note: For a free legal question with your Facebook login, click here.]