News analysis and explanation of the main news reports appearing in newspapers of 15 February 2017 (also freely subscribe to our YouTube Education channel with about 100 free videos on UPSC IAS and other competitive examinations); This is Part 1 covering Sasikala case and its consequences, with detailed legal analysis of the case:
SC convicts Sasikala, sends her to jail for 4 years
On 14 Feb 2017, Supreme Court set aside the Karnataka High Court's acquittal of Ms. Sasikala and two co-accused in the 20-year-old disproportionate assets case.
The trial court's conviction of Ms. Sasikala, V.N. Sudhakaran and J. Elavarasi (accused no 2, 3 and 4) was completely restored by SC.
The trial judge, John Michael D'Cunha, had convicted and sentenced Ms. Sasikala, Mr. Sudhakaran and Ms. Elavarasi under Section 109 IPC, read with Section 13(2) of the Prevention of Corruption Act — abetment of criminal misconduct of a public servant — to simple imprisonment for a period of 4 years each and to pay a fine of ₨. 10 crore each.
With restoration of conviction by SC, Sasikala and other 2 accused will have to undergo 4 years in prison (minus, any period already undergone in jail).
The trial court had sentenced former CM Jayalalithaa to 4 years' imprisonment and ₨ 100 crore in fine for corruption-related offence of possession of disproportionate assets.
The Supreme Court held that the appeals against Jayalalithaa stand abated with her death on December 5, 2016.
If alive, Jayalalithaa would have had to resign as CM and serve the rest of her prison term, besides paying the fine. However, the fine will still be collected from her properties and bank accounts.
Order of the SC was pronounced by a Bench of Justice P.C. Ghose and Justice Amitava Roy.
Main judgment of 563 pages was written by Justice Ghosh with which Justice Roy agreed. In addition, a separate 7 page concurring judgment was written by Justice Roy.
Offence of disproportionate assets
13. Criminal misconduct by a public servant.—(1) A public servant is said to commit the offence of criminal misconduct,—
*** ***
(e) if he or any person on his behalf, is in possession or has, at any time during the period of his office, been in possession for which the public servant cannot satisfactorily account, of pecuniary resources or property disproportionate to his known sources of income.
Explanation.—For the purposes of this section, "known sources of income" means income received from any lawful source and such receipt has been intimated in accordance with the provisions of any law, rules or orders for the time being applicable to a public servant.
Method of calculating disproportionate assets
Ascertain the following items for the public servant during the check period:

Assets
Expenditure
Income from known sources

Get the sum total of assets and expenditure.
Deduct this sum total from the Income.
If the difference is negative, then this difference is the disproportionate assets.
As per SC judgment (Krishnanand Agnihotri v. State of M.P., (1977) 1 SCC 816 : AIR 1977 SC 796), disproportionate assets up to 10% of the income is not considered as offence.
Disproportionate Assets – as found by trial court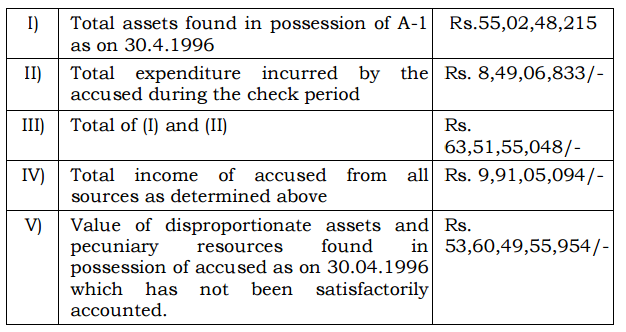 Disproportionate Assets – as found by high court
The high court had found as under:
Assets + Expenditure = Rs. 37,59,02,466
Income = Rs. 34,76,65,654
Disproportionate assets = Rs. 2,82,36,812
Therefore, the high court found that the disproportionate assets were only 8.12% of the income and hence there was no offence, as per the legal principle laid down by SC (in Krishnanand Agnihotri case).
Consequence of Sasikala's conviction
Sasikala cannot become Chief Minister of Tamil Nadu now at this stage.
She will have to spend 4 years in jail.
In fact, even after coming out of jail after 4 years, she will be disqualified from contesting elections for another 6 years in view of provisions of Section 8 of the Representation of the People Act, 1951.
This means, at least for next 10 years, Sasikala cannot contest any elections, and thus, she cannot occupy position of a minister or chief minister.
S. 8 of Representation of the People Act, 1951
8. Disqualification on conviction for certain offences.— (1) A person convicted of an offence punishable under—
*** ***
(m) the Prevention of Corruption Act, 1988 (49 of 1988); or
*** ***
shall be disqualified, where the convicted person is sentenced to—
(i) only fine, for a period of six years from the date of such conviction;
(ii) imprisonment, from the date of such conviction and shall continue to be disqualified for a further period of six years since his release.
Sasikala & other convicts likely to surrender
Supreme Court order directed V.K. Sasikala, Elavarasi and Sudhakaran to surrender in the trial court in Karnataka immediately.
As per media reports, they are likely to take a flight to Bengaluru early on 15 Feb 2017 and surrender in the trial court the same day.
Palaniswami stakes claim to form Govt in TN
Immediately after conviction in the corruption case, AIADMK interim general secretary V.K. Sasikala on 14 Feb put in place a plan of succession by getting PWD Minister Edappadi K. Palaniswami elected leader of the AIADMK Legislature Party.
His name was reportedly "unanimously" accepted by "at least 120 MLAs" at the Golden Bay Resort in Kancheepuram district.
To win a simple majority in the House, he needs the support of 118 MLAs.
Sasikala also expelled 20 leaders of the rival faction, including Chief Minister O. Panneerselvam from the primary membership of the party.
Palaniswami met Governor Ch. Vidyasagar Rao and staked claim to form the next government.
Later in the evening, the O. Panneerselvam camp claimed that at least 40-45 MLAs were on their side but had backed Mr. Palaniswami under duress.
The Governor was examining both claims
TN Governor to decide
So, now there are two rival claims from within AIADMK to form Government in Tamil Nadu. One from Palaniswami (who is supported by Sasikala) and the other from the Chief Minister O. Panneerselvam.
Governor is learnt to have consulted 3 experts, including the Attorney General Mukul Rohatgi.
Attorney General, on 13 February, had advised Tamil Nadu Governor to hold a composite floor test in the Legislative Assembly.
This would prove who had majority in power tussle between two factions of AIADMK.
AG said the floor test would decide who would become Chief Minister.
AG referred to a SC judgment of 1988 ordering a floor test in Uttar Pradesh to decide the battle for power between Kalyan Singh and his rival Jagadambika Pal.
The members would vote and a resolution would be passed accordingly, he said.
Watch the YouTube video with full explanation:
This video discusses and explains the current affairs topics appearing in the newspapers and media (such as The Hindu, Indian Express, Economic Times, Press Information Bureau, etc.) of 15 February 2017. This is Part 1 video covering Sasikala case and its consequences, with detailed legal analysis of the case.
This video is useful for the aspirants of the UPSC Civil Services Examination (for IAS, IPS, IFS, and Group-A Central Services). This lecture is also useful for aspirants of other competitive examinations, such as SSC, Bank PO, LIC, RBI Assistant, RBI Grade B, State Public Service Commission examinations like RPSC, UPPSC, MPSC, MPPSC, HCS, RAS, CLAT, Hotel Management entrance, BBA and several other examinations.
This video has been prepared by Dr. Ashok Dhamija, a former IPS.
Facebook Comments
Powered by TG Facebook Comments