Something is wrong with our Government. It cannot stop incidents of rapes happening on helpless women. It cannot change the sick mentality prevalent among males in Indian society. It cannot provide security to one-half of the population so much so that a woman cannot be on roads even at 8 or 9 pm even on the roads of the capital city. But, it can shoot the messenger. If someone wants to hold a mirror to you to show your filth, then you just smash the mirror. How easy? But, you won't change the actual reality that is reflected in the mirror only as an image. Only by accepting the existence of rot in the system we can improve it. By sweeping things under the carpet, no system can be improved.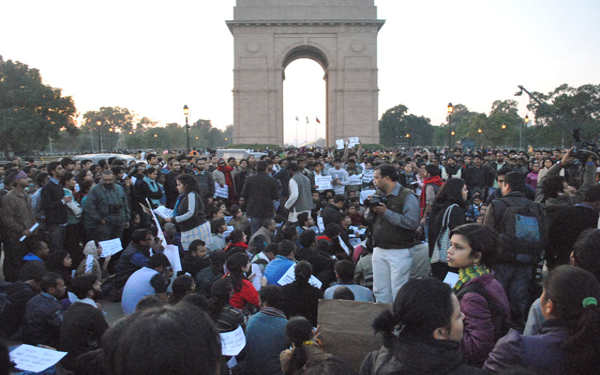 Yes, I have seen the India's Daughter documentary despite a ban by the Government of India. I find it to be a true reflection of the reality prevailing in our society. It clearly depicts the mindset of an unrepentant person convicted of a serious gang rape case. It also shows how even those people, who are supposed to be educated such as lawyers, can have a sick male mentality that is at the root cause of the women's insecurity in India. Above all, it shows the dismal state of affairs with regard to women's security in our country.
I don't know whether our Prime Minister has actually seen this documentary. With the kind of sensitivity to the cause of women that he displayed during his Independence Day speech at the Red Fort in Delhi last year, I am sure he would have hanged his head in shame after seeing the documentary instead of banning it. That would have made the Prime Minister take at least some corrective measures than merely exhorting people on the Independence Day speech to change the wrong male mindset, instead of ordering his Home Minister to ban the documentary. Remember, during his speech, the PM had said: "…when we hear about the incidents of rape, we hang our heads in shame. … Parents ask their daughters hundreds of questions, but have any parents ever dared to ask their son as to where he is going, why he is going out, who his friends are. After all, a rapist is also somebody`s son. He also has parents. As parents, have we ever asked our son as to what he is doing and where he is going. If every parent decides to impose as many restrictions on the sons as have been imposed on our daughters, try to do this with your sons, try to ask such questions of them."
So, to India and to the whole of the world, he announced that we have a problem with our mindset. We don't try to control our son but only put restrictions on the daughter. This was his message.
The message of India's Daughter is also similar. You always learn more and faster from your enemies than from your friends. A convicted rapist in a ghastly gang rape case, who is unremorseful even after being awarded death penalty, is nothing short of being an enemy of the society. His mindset tells you what is going on there. What is the danger. What precautions have to be taken from such sharks in the society who are sitting at every nook and corner of India, and who are sitting right inside our homes.
Having seen this documentary, I don't find anything obscene or anything that distorts the narrative of the 16 December Delhi gang rape. But, it has a message, loud and clear. It revives the horrific memories of that ghastly rape. It should strengthen our resolve to act (and act fast) to find solutions to the problem that has not gone away despite huge public uproar all over the country for over a month after that incident. Our Government has again gone into a deep slumber, after appointing a committee, after making some amendments in the law. And, that's it. Period.
And, the rapes continue unabated. Our VIPs and VVIPs are not affected. They live with Z+ and Z security cover. Even the members of the families of the Prime Ministers who died several years back, continue to get SPG protection cover. Each one of them is secured by a large number of security personnel. All of this, while hundreds of common women do not have a single constable to protect them on the street.
The police-population ratio (number of police personnel per 100,000 population) in India is only 130 as compared to 438 in Sri Lanka, 401 in Zimbabwe, 401 in Afghanistan, 370 in Malaysia, 344 in Thailand, 282 in Brazil, 225 in Nepal (mind you, all these are also developing countries). So, what we need to do is to at least double or treble the strength of police. What we actually do instead? As per a Lok Sabha question answered on 25 November 2014, against a total sanctioned strength of 22,09,027 posts of police personnel, only 16,60,666 personnel were in position leading to a shortfall or vacancies of 5,48,361 personnel, as on 1 January 2013. So, instead of doubling or trebling of police strength, we continue to have about 25% vacancies even in the existing sanctioned strength!
Look at judiciary. India has just 13 judges for every one million people as against 35-40 in other developing nations and 50 in a developed country. So, again, there is a need to increase the strength of the judiciary by about 4 to 5 times (i.e., 400% to 500%). The Supreme Court has itself emphasised the need to increase the strength of the judiciary five-fold. For example, see the case of All India Judges' Assn. v. Union of India, (2002) 4 SCC 247 : AIR 2002 SC 1752, in which the Supreme Court directed that the then existing judge-population ratio of 10.5 or 13 judges per one million population be raised to 50 (i.e., about 5 times) in five years. What we actually do instead? As on 31 March 2013, out of a total strength of 19518 for the District and Subordinate judiciary, as many as 4403 posts of judges / magistrates were lying vacant (about 23% vacancies). And, out of 984 posts of high court judges, as on 1 March 2015, as many as 346 were lying vacant (about 35% vacancies).
So, what is the Government doing? What is the Supreme Court doing, other than merely issuing some directions to the Government (and not compelling the Government to comply with them)?
Unfortunately, by signing on 500 files every day while sitting in air-conditioned big rooms with perfumes / room-fresheners filling the air, our ministers and our senior bureaucrats feel that they are doing hard work for which the nation should be grateful to them. File pushing is not real work at the policy-making level in the Government. There must be reforms to streamline the system. Problems have to be solved. Merely signing on a number of files is not doing work, notwithstanding the fact that it may give some hollow feeling of doing very important work to those who do so. I am talking of people at policy-making level and not at the ministerial / clerical level.
Likewise, judges sitting in the Supreme Court do not think themselves of being less than the "Lord", little do they realise that the consumers of the court system are not at all happy with the way the judiciary works. Cases of Jayalalithaa, Lalu Yadav, O.P. Chautala, Jindal, Birla and BCCI are expedited but even the high profile 16 December Delhi gang rape case has to wait. And, of course, ordinary rape cases and murder cases have to wait not for years but for decades (remember, the trial of even the murder case of former Rail Minister L.N. Mishra took about 40 years to conclude, appeals will take still longer).
Thus, two important limbs of the criminal justice system in India are crumbling and dysfunctional. How will the security of women be ensured?
This is where the Government is supposed to target its energy. In addition, the Government is supposed to be a catalyst in changing the mindset of people towards women.
Just yesterday (5 February 2015), a man, accused of raping a girl, was beaten to death after being pulled out of a jail by a mob at Dimapur in Nagaland. Do you think it happens overnight? It is the frustration of people with long experience of no justice. In December 2012, "Nagaland" could have happened in Delhi also, when large crowds were demanding justice near the President house in the heart of Delhi.
The above documentary is a timely reminder to those who are living a comfortable life in the Lutyens' Delhi, from where they cannot see the plight of a common woman in a narrow street or in a small room or in a hut. Those moving in convoys of 10-20 VIP vehicles, with all roads cleared of the traffic for their smooth movement, cannot see the difficulties of a common woman.
And, you don't want to see the message? Before it is too late and before people resort to their ultimate weapon of taking the law into their own hands (from the unsafe hands of judiciary and Government) by staging a revolution, a la the Arab Spring or some violent revolution, it is high time that our policy-makers should see the documentary (and read the message therein) at least 10 times and take some real corrective measures. One does not know which rape case (out of many occurring every day) will suddenly become the cause of a great public upheaval that can overthrow the Government with patience fully running out (yesterday's Nagaland incident is only a signal).
Irony is that AIB Knockout Roast can continue to be available online but India's Daughter will not be. Blame BBC (and western media) for scandalising the rape culture of India, but allow the cacophony of Indian channels which, day in and day out, show all sorts of nonsensical and abusive content. Those who continue to call India's mothers as baby producing factories with calls of producing at least 5 children will have the freedom of speech, but documenting the sick mindset that leads to rapes is not welcome.
I appreciate that usually it is not correct to interview an accused since it can prejudice the judges who decide his case. But, here, the accused is harming himself by voluntarily agreeing to give interview. In fact, he has confessed in the interview about the rape, the murder, the throwing of the body, and much more. Such confession may harm his own interests since his appeal is still pending in Supreme Court (and it may prejudice judges); so whatever doubt was there about the genuineness and proof in the rape case, that would now be removed. However, this interview is not like throwing tens of microphones on the face of an accused outside a courtroom or a jail to force him to speak something, as the Indian media is used to. It is an interview where the accused spoke in an isolated room of a well-guarded jail, and presumably he spoke out of his own volition, howsoever misguided (about the scope of the interview) he might have been. The producer of the documentary, Leslee Udwin, would not have been able to enter the inside rooms of the Tihar Jail unless the jail authorities had permitted her to do so. So, what action has been taken against the DG of Tihar Jail and/or other concerned authorities in the jail or the officers of the Ministry of Home Affairs who were also apparently consulted while granting permission to Leslee Udwin to interview Mukesh Singh, an accused in the rape case.
Lawyer AP Singh, who was also interviewed in the said documentary, has been rightly criticized for his outdated views aired in the documentary. But, he also raised an important point that should be taken note of. He says in the documentary that there are at least 250 Members of Parliament (MPs) who have cases of rape, murder, etc., against them; and, their cases should also be expedited. In a recent article, I had detailed, citing the election promise of the new Prime Minister Narendra Modi and a decision of the Supreme Court, how expeditious criminal prosecution of MPs and MLAs was necessary; but within a few days, in another article, I had pointed out as to how the Supreme Court had reversed its stand on expeditious disposal of criminal cases against MPs and MLAs. On social media, it has been mentioned that the reference to criminal cases against 250 MPs in the said documentary may have scared the politicians, more so since it was linked with the emotional scenes relating to the Delhi gang rape case, and this would have led to banning of the documentary. Be that as it may, it is a well-known secret that our MPs are the biggest beneficiaries of the delay in justice delivery system. Thus, the Government cannot hide this fact by banning the documentary.
Silly technical reasons given by Home Minister Rajnath Singh to ban the documentary do not hold water and make mockery of our system, such as his reasoning that the permission conditions have been violated since permission had been granted to film the documentary for social purposes and the documentary was not to be used for commercial reasons. You cannot ban a documentary for this silly reason when it covers an important issue, though of course, if law permits you may impose some financial penalty on the producer for violating the condition.
Equally stupid is the statement of BJP MP Meenakshi Lekhi who said the release of the documentary will affect tourism in India. Let us presume that foreign tourists will avoid coming to India after learning about the rape culture in India, but what about those unfortunate women in India who are born in India and who have to live in India itself? Can they leave India? Do they need a documentary to be told about the rape culture in India? And, what do you do to improve the ground situation in India? VIPs like Lekhi may not be affected by the poor conditions of women's security in India, but hundreds of millions of ordinary women are. If we are so worried about preventing the image of India being sullied in the world, why do we repeatedly fail to take corrective measures? Mind you, tourism is one of the key sectors in which PM Narendra Modi sees immense growth potential. Physical infrastructure such as roads, hotels and airports are not sufficient for attracting foreign tourists, you must also have a good social infrastructure including safety of men and women travelling to India.
Speaking of mind and mindset of males in India, it is not merely Mukesh Singh from whom we have to be on the caution side. The likes of M.L. Sharma and AP Singh, both advocates, who aired their outdated views in the documentary are also not the only reasons to worry about our mindset. Our so-called saints are involved in sexual assaults against women, our top political leaders are involved in similar cases. I do not want to take names. Everyone knows about them. Not only that. Notwithstanding the fact that we proclaim lofty ideals of right to equality and gender-equality in our Constitution, the fact remains that 68 years after independence, we still allow one male to marry up to four females. Our proclamations of right to equality and gender-equality go for a huge six outside the stadium when we do not have the courage to enforce this basic equality to our women in the name of outdated 7th century traditions, fearing electoral losses. It is this casual and sick mindset against women that needs to be changed. All our equality principles are absolutely hollow, if in this 21st century, we cannot give basic equal rights to women.
What is not appreciated is the fact that while the accused Mukesh Singh got a so-called platform to air his views (though he shot himself in the foot, by confessing about the horrific rape case, and by airing his stupid but dangerous views), the parents of the unfortunate rape victim have themselves been interviewed and quoted copiously and they have narrated their heart-breaking story. Other people, such as Justice Leila Seth, Senior Advocate Gopal Subramaniam (member of a Committee to Recommend Amendments to Criminal Laws, headed by Justice J. S. Verma, appointed after Delhi gang rape case), etc., have also added their views. So, it is a balanced approach.
Lastly, in today's electronic and Internet age, it is foolish to think that a ban on an electronic message can be practically possible. You can ban it on TVs, you can ban on YouTube, you can ban on Google search (though it will not be easy to ban on Google search), you can block websites and IP addresses. However, new IP addresses crop up instantly with the same banned content when millions of people are interested to know. The social media, such as Twitter and Facebook, and now WhatsApp and its clones, verbal telephonic conversations, etc., can easily convey the IP addresses where the banned material is uploaded. In fact, the wide coverage of this issue in previous two days in the media shows that the documentary has received much more publicity than it would have got if it was not banned.
Overall, the documentary is quite balanced and is an honest attempt to espousing the cause of women and not that of the rape accused. Mistake not. Its message is loud and clear. We have to clear up the mess created about women's security and change the sick male mentality of our society. Now, if our Government wants to shoot the messenger and hide the message from the people, then we cannot expect any real changes in the ground situation with a dishonest or misguided Government. In fact, I would urge that instead of banning it, it should be shown in all schools in India. There is nothing obscene in it. On the other hand, it has a message that should reach the masses.
Facebook Comments
[
Note:
If you want to ask a free legal question,
click here
.]